Research & Publications
Below is a list of articles I've published in the fields of Computational Democracy and Biology.
Computational Democracy
The following is the first paper (hopefully of many to come) that we've published about the methodology behind Polis, under The Computational Democracy Project.
Polis: Scaling Deliberation by Mapping High Dimensional Opinion Spaces
Christopher T. Small, Michael Bjorkegren, Timo Erkkila, Lynette Shaw & Colin Megill Recerca, Democracy in the Age of AI, 2021.   web   pdf
Computational Biology
Between 2012 and 2019, I worked on and off with the Computational Biology department of Fred Hutch Cancer Research Center Fred Hutch under Erick Matsen. Most of my work centered on:
emergence of infectious disease
molecular epidemiology
statistical inference
Bayesian analysis
evolutionary interplay between the immune system (adaptive and innate) and viral evolution and restriction factors

particularly related to zoonotic transmission and the emergence of infectious disease

teaching basic bioinformatics skills to biologists and programmers
This research led to a number of publications, listed below and grouped by primary subject. My collective contributions to these papers include:
dozens of published data visualizations
significant writing contributions
statistical analysis
algorithm development & implementation
helping biologists understand the implications of their data
experiment design
data pipeline maintenance
data exploration & visualization tooling
Many thanks to the wonderful scientists I had the pleasure of working with on these these projects!
Deep sequenced B-cell receptor processing
My primary contribution towards this project has been a set of software which our biological collaborators used to process and analyze these datasets.
Kappa chain maturation helps drive rapid development of an infant HIV-1 broadly neutralizing antibody lineage
Cassandra A. Simonich, Laura Doepker, Duncan Ralph, James A. Williams, Amrit Dhar, Zak Yaffe, Lauren Gentles, Christopher T. Small, Brian Oliver, Vladimir Vigdorovich, Vidya Mangala Prasad, Ruth Nduati, D. Noah Sather, Kelly K. Lee, Frederick A. Matsen IV & Julie Overbaugh Nature Communications, 2019.   web   pdf
Interspecies transmission patterns of Astrovirus
In this study, we looked at the first ever genetic sequencing of Astrovirus in non-human primates (NHP), and found evidence of very high interspecies transmission rates to and from NHP suggestive of high susceptibility to the virus.
Non-Human Primates Harbor Diverse Mammalian and Avian Astroviruses Including Those Associated with Human Infections
Erik A Karlsson, Christopher T. Small, Pamela Freiden, Mohammed M Feeroz, Frederick A. Matsen IV, Sorn San, M. Kamrul Hasan, Gunwha Oh, David Wang, Gregory Engel, Lisa Jones-Engel, Stacey Schultz-Cherry. PLoS Pathogens, 2015.
Monkey to human zoonoses of Simian Foamy Virus
One of the first projects I cut my teeth on as a computational biologist was looking at fascinating data set of genetic sequence data from SFV infected humans and monkeys. The richness of the dataset warranted multiple papers, each of which looked at a certain angle of what the information was able to provide. One of the more major contributions of the work was finding evidence of the human viral restriction factor APOBEC3 as playing a role in the SFV's apparent inability to be transmitted between humans.
A Novel Bayesian Method for Detection of APOBEC3-Mediated Hypermutation and Its Application to Zoonotic Transmission of Simian Foamy Viruses
Frederick A. Matsen IV, Christopher T. Small, Khanh Soliven, Gregory A. Engel, Mostafa M. Feeroz, Xiaoxing Wang, Karen L. Craig, M. Kamrul Hasan, Michael Emerman, Maxine L. Linial, Lisa Jones-Engel PLoS Comput. Biol., 2014.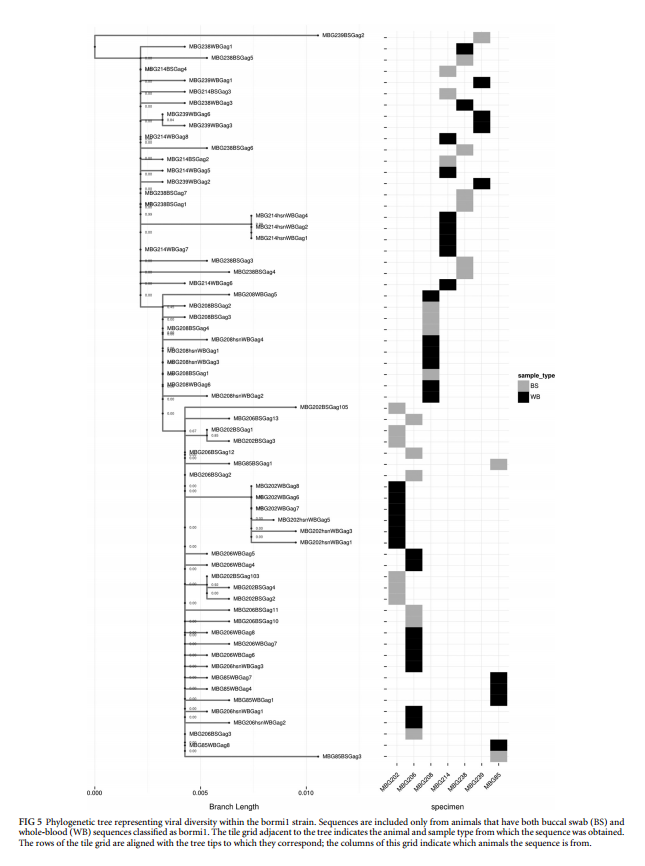 Simian Foamy Virus Infection of Rhesus Macaques in Bangladesh: Relationship of latent proviruses and transcriptionally active viruses
Soliven, Khanh, Wang, Xiaoxing, Small, Christopher T, Feeroz, Mostafa M, Lee, Eun-Gyung, Craig, Karen L, Hasan, Kamrul, Engel, Gregory A, Jones-Engel, Lisa, Matsen, Frederick A, and Linial, Maxine L. Journal of Virology, 2013.
pdf

Zoonotic simian foamy virus in Bangladesh reflects diverse patterns of transmission and co-infection
Jones-Engel, L., Engel, G., Small, C., Soliven, K., Feeroz, M., Wang, X., Hasan, M., Oh, G., Alam, S. M. R., Craig, K., Jackson, D., IV, F. Matsen, and Linial, M. L. Emerging Microbes and Infections, 2013.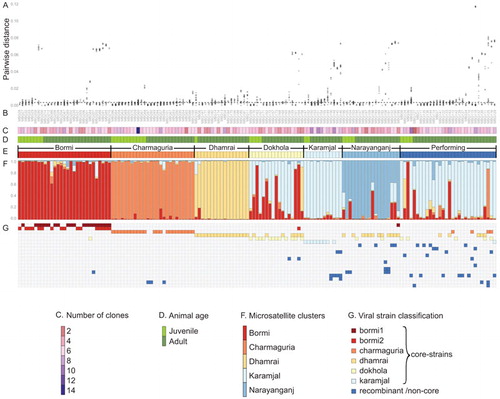 Population Dynamics of Rhesus Macaques and Associated Foamy Virus in Bangladesh
Feeroz, M.M., Soliven, K., Small, C.T., Engel, G.A., Pacheco-Delgado, M.A., Yee, J.L., Wang, X., Hasan, M. Kamrul, Oh, G., Levine, K.L., Alam, S.M.R., Craig, K. L., Jackson, D.L., Lee, E., Barry, P.A., Lerche, N.W., Escalante, A.A., Matsen, F.A., Linial, M.L., and Jones-Engel, L. Emerging Microbes and Infections, 2013.